FCFC Men's Breakfast!
Hello brothers and sisters in Christ. The first of July has come and gone, how the time flies. I want to let you know that the next Men's breakfast  will be Saturday July 31, at Brian's restaurant . We will be meeting at 9:00 AM, I hope to see you there.

Men's Ministry Coordinator:  Joe Silvers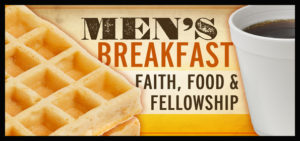 Men's Breakfasts are usually held twice a month!
Check out our online Newsletter Calendar for place, dates and times.