FCFC Men's Breakfast!
We are finally able to have our Men's Breakfast again! Our first meeting will be Saturday,  April 24th at Leo's Restaurant, Lapeer at 9:00 am! We are excited to be meeting together again and sharing in God! Hope to see you there!
Men's Ministry Coordinator:  Joe Silvers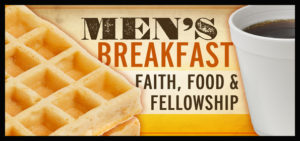 Men's Breakfasts are usually held twice a month!
Check out our online Newsletter Calendar for place, dates and times.